Virgin Atlantic Rolls Out New Menu Options for Fall and Winter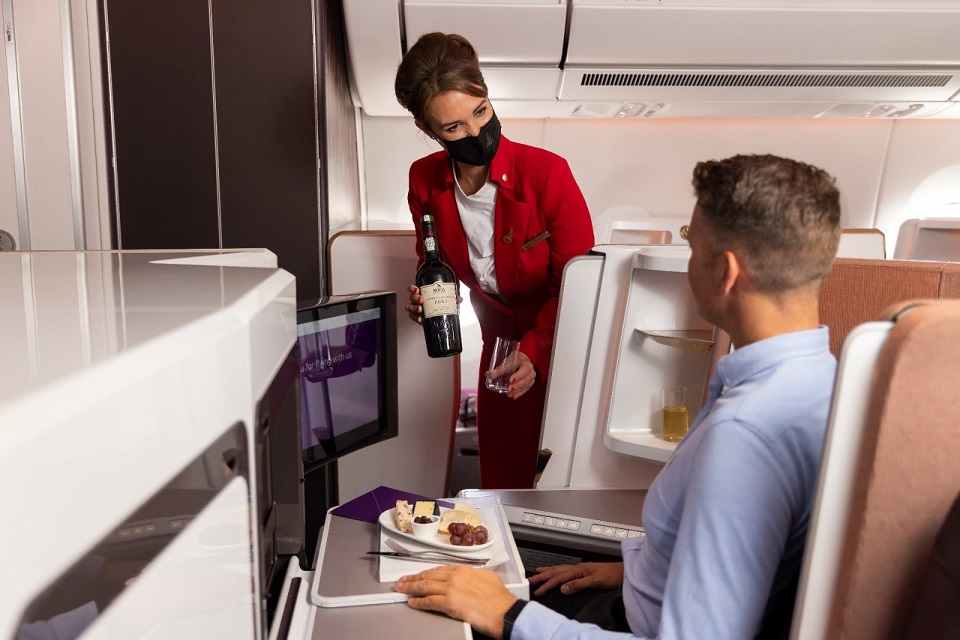 Virgin Atlantic is welcoming the cooler weather with a brand-new menu, introduced across the network from 4th October
The modern and inclusive menu will include more vegetarian and plant-based options
All new beverages will feature, including wines, cocktails, matcha and kombucha
Economy Delight customers will now be able to pre-select their meals
Beginning on October 4th, Virgin Atlantic will offer a new Autumn/Winter menu in all cabins, with a variety of alternatives to keep passengers comfortable for the upcoming journey.
On the main menu is succulent serrano ham with roasted squash, pickled red onion and feta cheese, herb roasted chicken breast and roasted trout fillet. Stealing the show is the Extra Bites menu, featuring a delicious cream tea including both a sultana scone and white chocolate and orange scone, with clotted cream, morello cherry jam and lemon curd.
There's also a delectable bao bun with cashew satay chicken and a spiced lamb flatbread. The new menu features an increased focus on vegetarian and plant-based options, including carrot tartare with whipped ricotta, spinach and ricotta tortellini, spiced apple and parsnip soup and a beyond burger® with pickled onions, vegan cheese and vegan mayonnaise. Tempting new flavours of Northern Bloc plant-based ice cream will also be served, passengers can contemplate over double salted caramel or lemon sorbet.
A new A La Carte breakfast menu has been introduced in Upper Class, enabling customers to 'build their own breakfast' from options of yoghurt, fresh fruit, warm pastries and a new range of cereals such as artisan granola or fruit and fibre. Customers wanting to catch up on sleep can order an Express Breakfast, served 40 minutes before landing. This includes either a bacon roll or sweet pastry.
Premium passengers in the adjacent cabin will have to decide between a homely chicken lasagne, sage and thyme pork stew and panko-crusted tofu with katsu vegetable curry. A British cheese plate with vintage cheddar, blacksticks blue, fig jelly, and grapes with olive oil and sea salt crackers is a new addition to the menu. Mile High Tea will be available in two flavors—sweet or savory—with small quiche Lorraine and smoked salmon blinis or coconut and blueberry financiers and pistachio macaron pastries.
Snacks in all cabins have been improved, and customers flying in Economy enjoy a wide variety of options, including Walker's shortbread fingers, vanilla Oreos, Cadbury mini fingers, and Penn State sour cream and chive pretzels. The Upper Class and Premium snacks will include Savoursmiths bubbly and serrano chilli chips, Yumma peach-flavored gummy candies, Creative Nature blueberry muffin bar, Love Raw Vegan caramelised biscuit bar and more.