Boeing front-runner to secure order for widebody jet from IndiGo
In the competition to supply wide-body aircraft to domestic carrier IndiGo, Boeing has emerged as the clear favorites. The company most likely to receive IndiGo's order for 25 wide-body aircraft is Boeing.
IndiGo is reportedly in talks to purchase a member of the Boeing 787 series of twin-aisle planes, which competes with Airbus' A330neo aircraft. According to the sources, no decision has been made because the conversations are confidential.
IndiGo announces salary hike for pilots, cabin crew after record Q1 profit(Opens in a new browser tab)
Air India's order for 470 aircraft from Boeing, which was previously the highest order, was surpassed by the airline's subsequent purchase of 500 A320 aircraft from the French aerospace manufacturer Airbus. The order placed by IndiGo was the largest single aircraft ever bought by any airline from Airbus. The order would include a mixture of A320 and A321 aircraft.
The first 500 aircraft are anticipated to be delivered only after 2026. The procurement, according to CEO Pieter Elbers, would aid the airline in developing a "unparalleled network" and moving forward.
IndiGo commences direct flights to AbuDhabi and Jeddah(Opens in a new browser tab)
The world's fastest-growing aviation market, where demand for air travel has soared post-COVID and sent industry records plummeting even as jet makers struggle to achieve output objectives, is where Indian carriers are attempting to stay up.
IndiGo, which holds a 58% share of the domestic market in India, is pushing forward at the same time that it plans to double its capacity by the end of the decade and expand its network, particularly in foreign markets.
EasyJet and Rolls-Royce hydrogen research project sets new world industry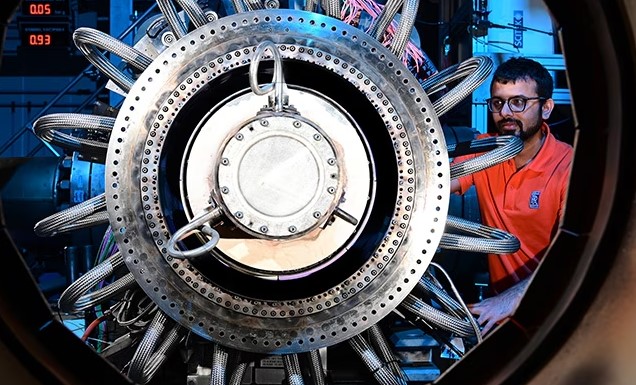 In its hydrogen research project, Rolls-Royce today announced the achievement of yet another significant milestone, a first for the entire world of industry.
In order to power a variety of aircraft, including those in the narrow-body market sector, starting in the mid-2030s, Rolls-Royce and its partner easyJet are dedicated to being at the forefront of the development of hydrogen combustion engine technology.
UK hydrogen alliance established to accelerate zero carbon aviation and bring an £34bn* annual benefit to the country(Opens in a new browser tab)
In collaboration with the German Aerospace Centre Deutsches Zentrum für Luft- und Raumfahrt (DLR) and the UK's Loughborough University, Rolls-Royce has now successfully demonstrated a crucial engine technology that represents an important step forward in the development of hydrogen as an aviation fuel.
Tests on a Pearl 700 engine running on 100% hydrogen at DLR in Cologne have demonstrated the fuel's ability to burn at circumstances that correspond to maximum take-off thrust.
The development of effective improved fuel spray nozzles to regulate combustion has been essential to that accomplishment. Given that hydrogen burns significantly hotter and faster than kerosene, this required considerable engineering problems to be overcome. A novel method that gradually blends air with hydrogen to control the fuel's reactivity allowed the new nozzles to regulate the flame location. The operability and emissions of the combustor met expectations, which is a positive outcome for Rolls-Royce.
Rolls-Royce and Gulfstream give wings to sustainable business aviation(Opens in a new browser tab)
Before the final full-pressure combustor tests were conducted at DLR Cologne, the individual nozzles were initially examined at intermediate pressure at Loughborough's freshly renovated test facilities and at DLR Cologne.
The hydrogen program's combustion component is now well understood as a result of these recent tests, but work is still being done on the systems that will deliver the fuel to the engine and combine those systems with an engine.
As Rolls-Royce and easyJet get ready for the next phase of testing, a full gas hydrogen ground test on a Pearl engine, they will now take the lessons learned from the Boscombe Down tests and apply them to the technologies tested at Loughborough and DLR. The next step will be a comprehensive ground test of a Pearl engine using liquid hydrogen; easyJet and Rolls-Royce both want to eventually fly with the technology.