Top 10 best airports in Asia for Queuing Times in 2023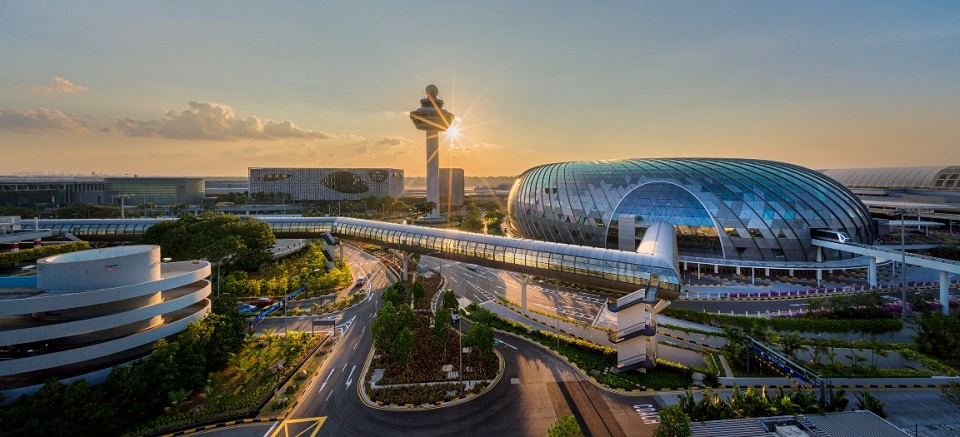 In the fast-paced world of air travel, effective airport operations are critical to providing a seamless experience for travellers. Queuing time – the amount of time spent waiting in lines for security checks, immigration, check-in, and other activities – is one of the important components that greatly effects a traveler's experience. For many passengers, a well-organized and speedy queuing process can be the difference between a stress-free ride and a frustrating one.
World's Best Airports of 2023(Opens in a new browser tab)
As we delve 2023, numerous Asian airports have earned a reputation for their remarkable queuing times, effectively streamlining their procedures to minimise wait times and improve customer satisfaction. These airports have gone the extra mile to leverage technology, innovative procedures, and meticulous planning to optimize their queuing systems.
This Indian airliner acquired the ability to fly internationally in less than a year.(Opens in a new browser tab)
In a recent survey conducted by Casago, placed the spotlight on some of the Asia's best airport experiences. Casago looked examined customer evaluations from airlinequality.com, where each reviewer rated the queueing times from 1 to 5 stars, to determine which airports have the best and worst queueing times. In this article, we look at Top 10 best airports in Asia for Queuing Times in 2023.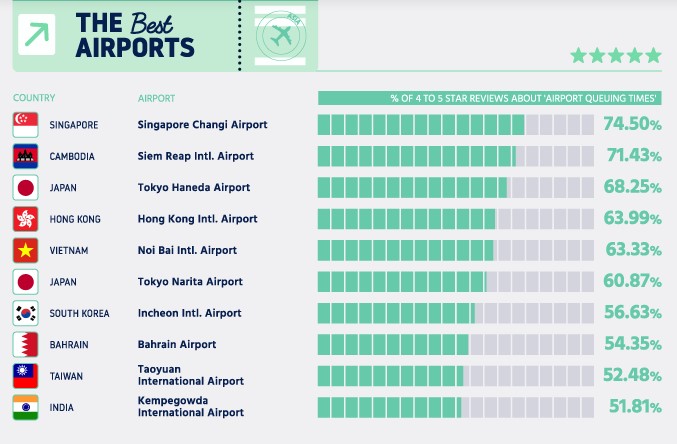 Singapore Changi Airport takes the top spot in the ranking, for best airports in Asia for queuing times in 2023 (74.50% of 4 or 5 star reviews), Additionally it was voted the "world's best airport" by Skytrax for the record 12th time.
Siem Reap International Airport ranked second as the best airport in Asia for queueing times, with only 71.43% of reviews receiving 4 or 5 stars. Meanwhile, Tokyo Haneda Airport had a rating of 68.25%, Hong Kong International Airport had a rating of 63.99%, and Kempegowda International Airport had a rating of 51.81% for queueing times, all of which received reviews with 4 or 5 stars.
EasyJet and Rolls-Royce hydrogen research project sets new world industry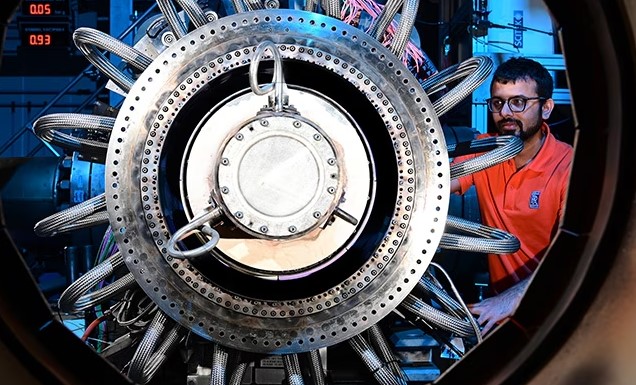 In its hydrogen research project, Rolls-Royce today announced the achievement of yet another significant milestone, a first for the entire world of industry.
In order to power a variety of aircraft, including those in the narrow-body market sector, starting in the mid-2030s, Rolls-Royce and its partner easyJet are dedicated to being at the forefront of the development of hydrogen combustion engine technology.
UK hydrogen alliance established to accelerate zero carbon aviation and bring an £34bn* annual benefit to the country(Opens in a new browser tab)
In collaboration with the German Aerospace Centre Deutsches Zentrum für Luft- und Raumfahrt (DLR) and the UK's Loughborough University, Rolls-Royce has now successfully demonstrated a crucial engine technology that represents an important step forward in the development of hydrogen as an aviation fuel.
Tests on a Pearl 700 engine running on 100% hydrogen at DLR in Cologne have demonstrated the fuel's ability to burn at circumstances that correspond to maximum take-off thrust.
The development of effective improved fuel spray nozzles to regulate combustion has been essential to that accomplishment. Given that hydrogen burns significantly hotter and faster than kerosene, this required considerable engineering problems to be overcome. A novel method that gradually blends air with hydrogen to control the fuel's reactivity allowed the new nozzles to regulate the flame location. The operability and emissions of the combustor met expectations, which is a positive outcome for Rolls-Royce.
Rolls-Royce and Gulfstream give wings to sustainable business aviation(Opens in a new browser tab)
Before the final full-pressure combustor tests were conducted at DLR Cologne, the individual nozzles were initially examined at intermediate pressure at Loughborough's freshly renovated test facilities and at DLR Cologne.
The hydrogen program's combustion component is now well understood as a result of these recent tests, but work is still being done on the systems that will deliver the fuel to the engine and combine those systems with an engine.
As Rolls-Royce and easyJet get ready for the next phase of testing, a full gas hydrogen ground test on a Pearl engine, they will now take the lessons learned from the Boscombe Down tests and apply them to the technologies tested at Loughborough and DLR. The next step will be a comprehensive ground test of a Pearl engine using liquid hydrogen; easyJet and Rolls-Royce both want to eventually fly with the technology.