Emirates now offering Inflight Meal Preordering Service across 92 destinations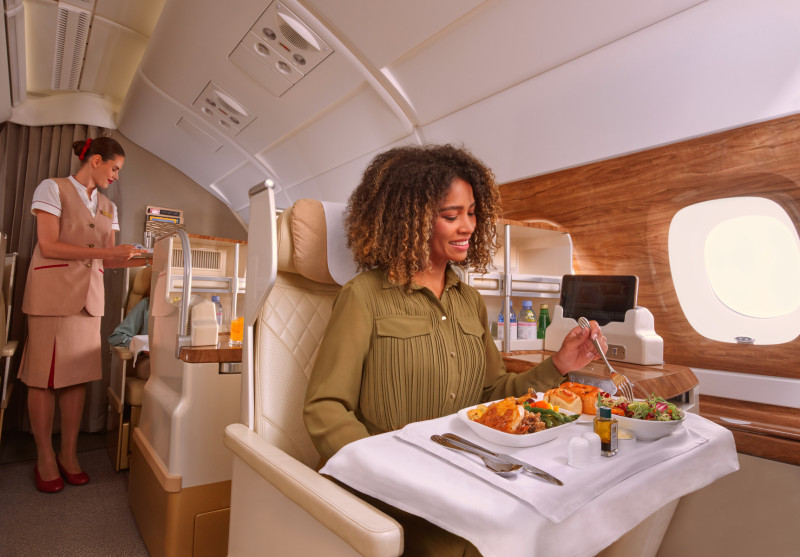 Emirates Inflight Meal Preordering Service is now available on 92 itineraries worldwide, with 30 additional routes, including Riyadh, Jeddah, Delhi, Mumbai, and Kuala Lumpur, launching today.
More than 10,000 preorders have now been delivered on over 3,000 flights, and Emirates customers place more than 600 meal preorders daily. The new service allows Business Class guests to choose their main dish 14 days to 24 hours before their aircraft departure, guaranteeing they get their preferred option every time and helping to decrease food waste.
So far, the most popular preorder dishes are pan-fried beef tenderloin with thyme jus, roasted new potato wedges and steamed asparagus, as well as grilled beef tenderloin with creamy wild mushroom sauce, Kenya beans and potato gratin and Suffolk roasted chicken with black garlic and potato fondant. So far, the most popular breakfast item is a cheddar cheese and chive omelette with creamy spinach, sautéed Portobello mushroom, and roasted herbed tomato.
To ensure Emirates passengers have a fine dining experience in the skies, passengers are asked to peruse the onboard menu on Emirates.com or the Emirates app up to a fortnight before a trip to choose from a selection of regionally inspired dishes using locally sourced ingredients.
Cabin crew members will use Apple devices on board the flight to view the preorder choices and serve passengers the food of their choosing. Meal preordering is an enhancement to Emirates' current suite of AI-enabled consumer preference tracking data and cabin crew reports, which help with menu design, waste reduction, and efficient food loading.