Ryanair Announces New Aircraft Base in Copenhagen
The top airline in Europe, Ryanair, has announced plans to establish a two-plane base in Copenhagen starting in December 2023. This $200 million investment in new aircraft will result in up to 100 direct jobs for pilots, cabin staff, and engineers. With 20 flights and 2.3 million passengers each year travelling to and from Copenhagen, Ryanair is already the third-largest airline in Copenhagen.
Ryanair announces nine new UK routes(Opens in a new browser tab)
Ryanair will be able to provide its unparalleled low tickets to Danish inhabitants and visitors who seek early departures and late arrivals at Copenhagen but cannot pay the extremely high air fares being charged by State-subsidized high fare airlines SAS and Norwegian as a result of these new two aircraft base. In addition to Billund, Copenhagen becomes Ryanair's second base in Denmark. There are 24 routes available on Ryanair's winter '23 schedule to/from Copenhagen, including 4 intriguing new locations: Dusseldorf, Faro, Paris, and Warsaw. There are also more frequent flights to Gdansk and Krakow.
The only large airline in the EU with considerable post-Covid traffic growth is Ryanair. Ryanair anticipates carrying 184 million passengers in 2023–2024, up 24% from 149 million in pre–Covid travel. Ryanair operates flights from Billund, Denmark, where it has a base for two aircraft, to the other three Danish airports of Aalborg, Aarhus, and Copenhagen. With the addition of a new 2-aircraft base in Copenhagen in December, Ryanair will be able to provide low-cost competition and options for departures in the morning and arrivals in the evening.
Iconic BOAC Livery on British Airways Boeing 747 to be Scrapped(Opens in a new browser tab)
In accordance with the CLA it has signed with the Danske Metal Union in Denmark, which currently governs wages and working conditions at its base in Billund, Ryanair will establish the 100 new jobs. Ryanair's new Copenhagen base complies fully with Danish employment law and these high paid jobs will all pay their taxes in Denmark.
Ryanair anticipates using the low-cost "CPH GO" port in Copenhagen. Ryanair urges Copenhagen to reduce the excessive airport fees that are still impeding the city's post-Covid recovery. Only about 85% of Copenhagen's pre-Covid volumes can be accommodated at S23, and the city's slow economic recovery is a result of its high airport costs. Ryanair requests that the Danish Regulator follow the example of numerous other EU airports that reduced airport fees after Covid in order to compensate for traffic growth.
Ryanair has launched a Danish seat sale, with 50,000 seats starting at just 229DKK one way, to honour the opening of its new two-aircraft base in Copenhagen and the expansion of its base in Billund. These seats must be reserved by Thursday, August 24, for travel between November 1 and December 10, 2023.These low fares at Billund and Copenhagen are available only on www.Ryanair.com.
EasyJet and Rolls-Royce hydrogen research project sets new world industry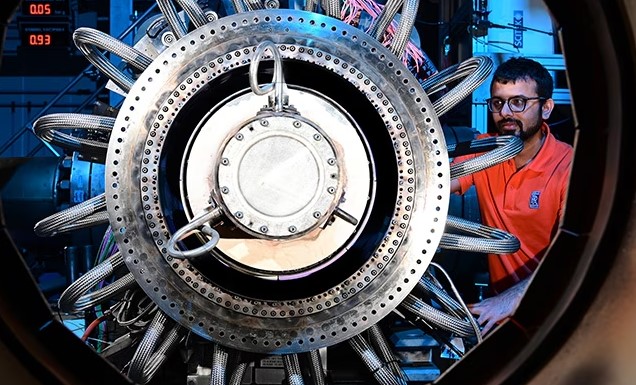 In its hydrogen research project, Rolls-Royce today announced the achievement of yet another significant milestone, a first for the entire world of industry.
In order to power a variety of aircraft, including those in the narrow-body market sector, starting in the mid-2030s, Rolls-Royce and its partner easyJet are dedicated to being at the forefront of the development of hydrogen combustion engine technology.
UK hydrogen alliance established to accelerate zero carbon aviation and bring an £34bn* annual benefit to the country(Opens in a new browser tab)
In collaboration with the German Aerospace Centre Deutsches Zentrum für Luft- und Raumfahrt (DLR) and the UK's Loughborough University, Rolls-Royce has now successfully demonstrated a crucial engine technology that represents an important step forward in the development of hydrogen as an aviation fuel.
Tests on a Pearl 700 engine running on 100% hydrogen at DLR in Cologne have demonstrated the fuel's ability to burn at circumstances that correspond to maximum take-off thrust.
The development of effective improved fuel spray nozzles to regulate combustion has been essential to that accomplishment. Given that hydrogen burns significantly hotter and faster than kerosene, this required considerable engineering problems to be overcome. A novel method that gradually blends air with hydrogen to control the fuel's reactivity allowed the new nozzles to regulate the flame location. The operability and emissions of the combustor met expectations, which is a positive outcome for Rolls-Royce.
Rolls-Royce and Gulfstream give wings to sustainable business aviation(Opens in a new browser tab)
Before the final full-pressure combustor tests were conducted at DLR Cologne, the individual nozzles were initially examined at intermediate pressure at Loughborough's freshly renovated test facilities and at DLR Cologne.
The hydrogen program's combustion component is now well understood as a result of these recent tests, but work is still being done on the systems that will deliver the fuel to the engine and combine those systems with an engine.
As Rolls-Royce and easyJet get ready for the next phase of testing, a full gas hydrogen ground test on a Pearl engine, they will now take the lessons learned from the Boscombe Down tests and apply them to the technologies tested at Loughborough and DLR. The next step will be a comprehensive ground test of a Pearl engine using liquid hydrogen; easyJet and Rolls-Royce both want to eventually fly with the technology.