Total sales of Boeing, Airbus, and Embraer at Farnborough Airshow 2022
Temporibus autem quibusdam et aut officiis debitis aut rerum necessitatibus saepe eveniet ut et voluptates.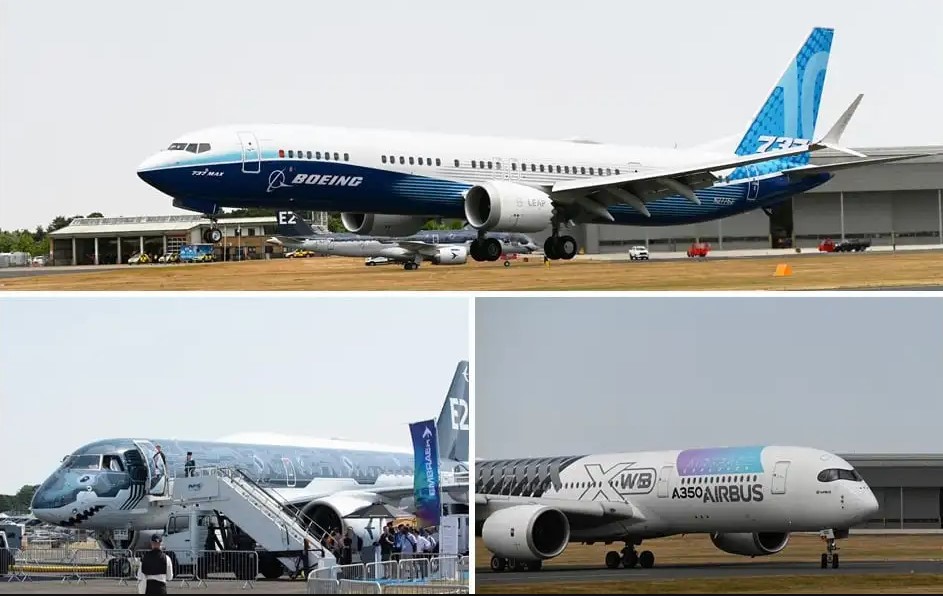 As of Farnborough airshow closing ceremony for 2022. It experienced the high demand aviation expansion expected by Boeing and Airbus in the following years. The same has been reported by OAG. As the airshow has become a game changer for several manufacturers and a new challenger in modifying the strategy to attract customers.
Boeing aircraft
Let us begin with Boeing. The Boeing company performed exceptionally well at the airshow, receiving the greatest number of orders and commitments to purchase the aircraft despite the fact that the aircraft manufacturer had previously faced criticism for the Boeing 737 Max, but after the aircraft returned to commercial service, few airlines still consider the Boeing 737 Max for their airlines.
The Boeing corporation has three significant airlines in the pipeline with production halts owing to clarification and certifications: the Boeing 737-10 max and the Boeing 787, as well as the Boeing 777x, which is in the experimentation phase.
With all of the challenges and successes, Boeing is poised to challenge the market with great confidence. The long wait has finally come to an end. Since the Farnborough airshow, the company's reputation has improved and demand has returned to pre-show levels.
Orders. 
On Boeing last day at Farnborough, the company maintained high order rates, and airlines are placing new orders. Surprisingly, the Boeing 737 Max is in high demand, with orders for more than 253 aircraft, including purchase commitments for purchasing aircraft. As Boeing demonstrated, the majority of commercial and defense products are attracting attention.
Norwegian Air Shuttle ASA recommitment to purchase 30 Boeing 737 MAX 8 aircraft.
Aviation Capital Group Announce Order for 12 737-8 Jets
777 Partners announced a new order and commitment for up to 66 737 MAX jets
Qatar Airways Finalize Order for 25 737 MAX Airplanes
Saltchuk Aviation Orders Up to Four Additional 767-300 Boeing Converted Freighters.
Azerbaijan Airlines to Expand its Boeing 787 Dreamliner Fleet, Signs Memorandum of Understanding to Purchase Four More Airplanes
BBAM Orders 9 More 737-800 BCF, Takes First Position at New Conversion Line
AerCap, World's Largest 787 Customer, Adds Five Boeing 787 Dreamliner's to Its Fleet
Air company Armenia and Georgian Airlines Add Capacity with Order for three 737-800 Boeing Converted Freighters.
All Nippon Airways (ANA), held a signing ceremony today at the Farnborough International Airshow to formalize an order for 20 737-8 airplanes, with 10 options in addition to the airline's selection of the new 777-8 Freighter.
Delta Carrier selects largest 737 MAX model, ordering 100 737-10s with options for 30 more jets
Boeing received the following total orders as of the last day of the Farnborough airshow 2022.
253 –  Boeing 737 max
12 – B737-800 BCF
4 – Boeing 767-300 F
9 – Boeing 787
2 – Boeing 777x
Airbus Aircraft
Airbus has also competed fiercely with Boeing, launching a number of technologies at airshows. Airbus displays its best-selling aircraft, the A320 Neo and the A350, as well as other products. Airbus' recent legal dispute with Qatar Airways has had a negative influence on the aircraft market here. Qatar Airlines has picked the Boeing 737 Max aircraft after cancelling an order for Airbus A320 aircraft. Aside from that, Airbus has received a good number of orders for A320 aircraft from regular clients.
Airbus also showcased the Airbus A350 ITA airlines exceptional cabin interiors, which were the show's highlight. We had the aircraft interior tour. Airbus is continuing to develop the Airbus A350 to the next level; as of today, it is the best and most successful aircraft, providing good competition to Boeing aircraft.
LATAM Airlines reinforces fleet with additional order for 17 A321neo, endorses A321XLR
easyJet confirms order for a further 56 A320neo Family aircraft
Delta Air Lines has firmed up orders for 12 A220-300 aircraft
Airbus received the following total orders as of the last day of the Farnborough airshow.
17 – A321 neo
56 – A320 neo
12 – 220-300
Embraer Aircraft. 
Embraer has also performed admirably in the airshow. It displays the important aircraft. In the airshow, an Embraer E192-E2 aircraft with two liveries presents a stunning key display. Embraer anticipated with the eVTOL projects, which have also experienced significant progress. Embraer also got orders for the passenger and freighter versions of the aircraft. In comparison to other airshows, Embraer fared exceptionally well.
Alaska Air Group Orders Eight New E175 Aircraft for Operation with Horizon Air
Porter Airlines Orders a Further 20 Embraer E195-E2s to Support Major Expansion Plan
NAC Places Two Embraer E190F With Astral Aviation
Embraer received the following total orders as of the last day of the Farnborough airshow.
8 – 175
20 – E195-E2
2- E190F
Airbus, Boeing's sustainable and Hydrogen technology overviews
Boeing and Mitsubishi Heavy Industries, Ltd (MHI) announced they will build on their decades-long partnership and collaborate on achieving the world's ambitious climate targets. The memorandum of understanding (MOU) is focused on jointly studying enabling sustainable technologies – including hydrogen, electrification, sustainable materials, zero climate impact propulsion technologies, and new aircraft design concepts as well as commercializing sustainable aviation fuels (SAF). Boeing and MHI will together study new feed stocks and technologies for SAF production, including in the area of green hydrogen and carbon capture.
Airbus has joined Hy24, the world's largest clean hydrogen infrastructure investment fund managed by Ardian, a global private investment firm, and FiveTHydrogen, an investment manager specialising in clean hydrogen initiatives.
The Hy24 investment fund will give financial backing for genuine, large-scale green hydrogen infrastructure projects around the world. Airbus' participation demonstrates its commitment to the expansion of a worldwide hydrogen economy, which is required for the successful entry-into-service of its zero-emission commercial aircraft by 2035.
Embraer projects with Widerøe such as 'Project Zero' – a collaboration with Rolls-Royce to study a truly zero emission aircraft (zero NOx and other greenhouse gases) of around 50 seats. This complementary work looks at all aspects of developing and operating the 19-50 seat Energia concepts.
NOTE 
The above statistics are based on the company's press release; if you have any more corrections or updates, please contact us at [email protected]
Embraer Takes Multiple Aircraft To Australian International Airshow
Quis autem vel eum iure reprehenderit qui in ea voluptate velit esse quam nihil molestiae consequatur, vel illum qui dolorem.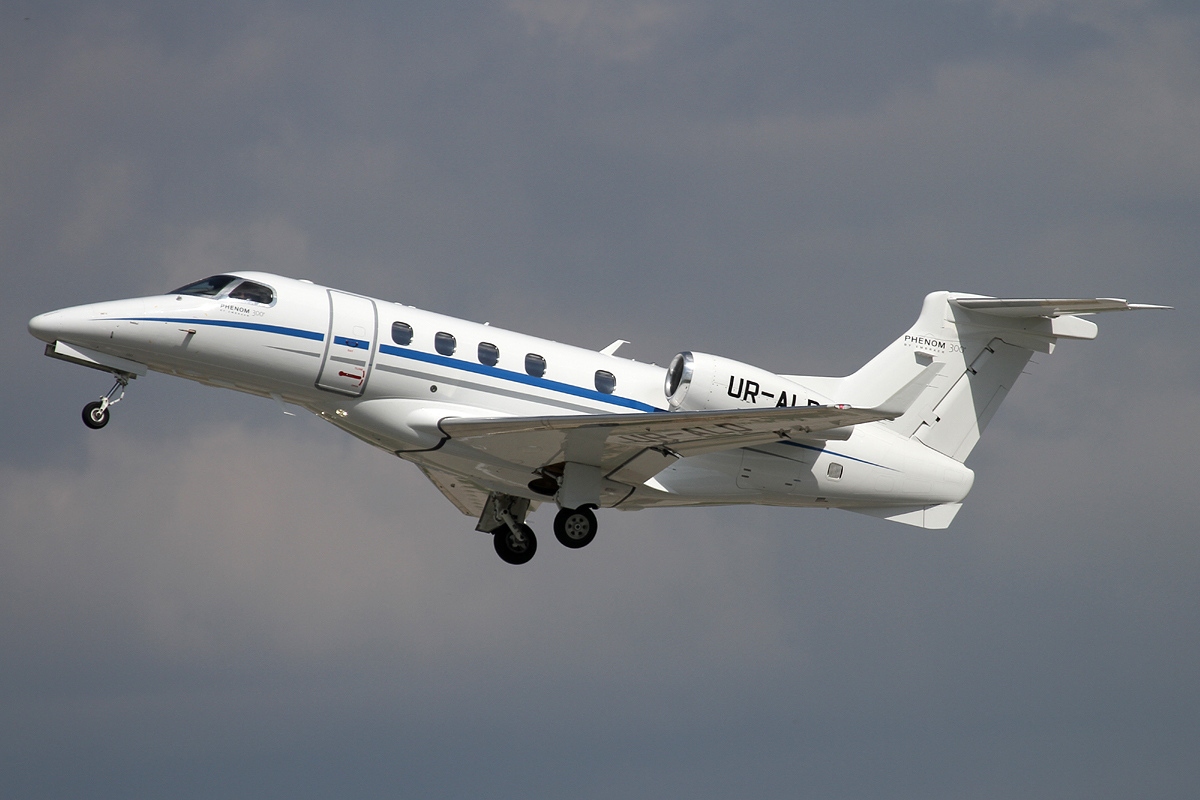 Embraer announced that the Phenom 100EV and the Phenom 300E business jets, along with the E195-E2 'TechLion' commercial aircraft, will be on display at the Australian International Airshow which starts on 28 February 2023. The aircraft on static display complement the products and solutions across Embraer's diverse portfolio that the Company will showcase at its chalet.
This will be the E195-E2's maiden appearance at the Australian International Airshow and the Phenom 300E series was just announced as the world's best-selling light jet for the 11th consecutive year. There are over 11 business jets and over 40 E-Jets operating in the country, mainly with Alliance Airlines, Airnorth, National Jet Express and Pionair. Several of Alliance Airlines' E-Jets operate on selected QantasLink routes.
The E195-E2 TechLion is the world's most efficient single-aisle aircraft. With a capacity of up to 146 passengers, the E195-E2 is part of the latest E2 family that is shaping the regional market with its sustainable technologies, superior cabin comfort, excellent economics and optimal range.
The Phenom 300E and the Phenom 100EV that are on display at the Show reflect the popularity of the aircraft in Australia and across the globe. The Phenom 100EV offers the business aviation experience in its purest form while the Phenom 300E sets the highest standard of excellence in the light jet category.
In terms of performance, the new, enhanced Phenom 300E is even faster, capable of reaching Mach 0.80, becoming the fastest single-pilot jet in production, and able to deliver a high-speed cruise of 464 knots and a five-occupant range of 2,010 nautical miles (3,724 km) with NBAA IFR reserves. The Phenom 300 series is in operation in 36 countries and has accumulated nearly one million, eight hundred thousand flight hours. It offers the highest residual value of any aircraft in the market.
Also, part of Embraer's portfolio of business jets are the Praetor 500 and the Praetor 600, which with best-in-class flight range, are the most disruptive and technologically advanced midsize and super-midsize business jets, capable of continent-crossing and ocean-spanning missions, respectively.
On the topic of sustainability, Embraer is committed to developing products, solutions, and technologies to contribute to the aviation industry's goal of achieving net zero emissions by 2050. Embraer aims to be carbon neutral by 2040 and achieve carbon neutral growth from 2022. It plans to implement 25% sustainable aviation fuel (SAF) use in its operations by 2040 and 100% renewable energy sources by 2030.
Bahrain International Airshow 2022 opens to the global aerospace industry
Et harum quidem rerum facilis est et expedita distinctio. Nam libero tempore, cum soluta nobis est eligendi optio.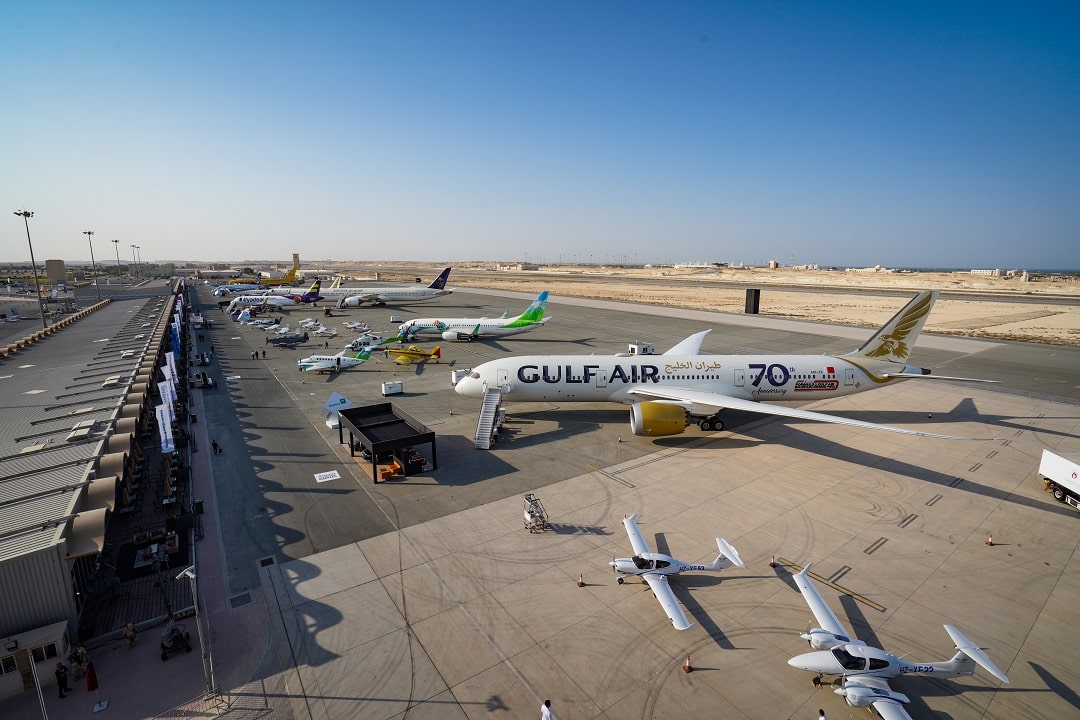 The sixth Bahrain International Airshow (BIAS) 2022 began yesterday at Sakhir Air Base under the patronage of His Majesty King Hamad bin Isa Al Khalifa, King of the Kingdom of Bahrain. His Royal Highness Prince Salman bin Hamad Al Khalifa, Crown Prince, Deputy Supreme Commander, and Prime Minister performed the ceremonial opening.
The sixth edition of Bahrain International Airshow (BIAS), which is celebrating a decade of distinction, offers an exciting schedule of new features, sector-leading content, and an exceptional networking opportunity with influential regional decision-makers.
On behalf of HM King #Hamad_bin_Isa Al Khalifa, HRH the CP and PM #Salman_bin_Hamad launches the 2022 #Bahrain International Airshow  #TeamBahrain pic.twitter.com/fE4UoUir6a

— أخبار سمو ولي العهد (@BahrainCPnews) November 9, 2022
Several agreements and deals were announced on the opening day of the airshow, which was organized by the Bahrain Ministry of Transportation and Telecommunications and the Royal Bahraini Air force in association with Farnborough International.
Building on BIAS's objective of providing a skill and education hub, a workshop was held by Corrin Higgs, an Airbus sustainability expert, who presented to Bahraini university students the latest innovations and sustainability trends in the aviation industry, highlighting Airbus' journey toward clean aerospace, its sustainability strategy focus on reducing the CO2 emissions of its current aircraft, and its goal to bring the world's first zero-emission commercial aircraft to market by 2035.
Cockpit video: Brilliant to display for the first time at the #Bahrain International Airshow, marking a decade of the event. Day one done!#RedArrows #BIAS2022 @BahAirshow pic.twitter.com/sG4iYhJDnf

— Red Arrows (@rafredarrows) November 9, 2022
The afternoon's airshow featured displays by the Global Stars, Red Arrows, DHL B767-300 Flypast, UAE F16, Saudi Hawks, and P-8 flypast, as well as the Gulf Air 787, RBAF, JF-17, Fursan Al Emarat, UAE Mirage 2000, RSAF Typhoon, and USAF F-16 demo team. And also 186 companies are taking part in the display, exhibition hall, and chalets, and there are 200 participating civilian and military delegations.
On behalf of HM King #Hamad_bin_Isa Al Khalifa, HRH the CP and PM #Salman_bin_Hamad launches the 2022 #Bahrain International Airshow  #TeamBahrain pic.twitter.com/MqVa9b6CzO

— أخبار سمو ولي العهد (@BahrainCPnews) November 9, 2022
Eve showcases its eVTOL cabin for the first time at the Farnborough Airshow
Quis autem vel eum iure reprehenderit qui in ea voluptate velit esse quam nihil molestiae consequatur, vel illum qui.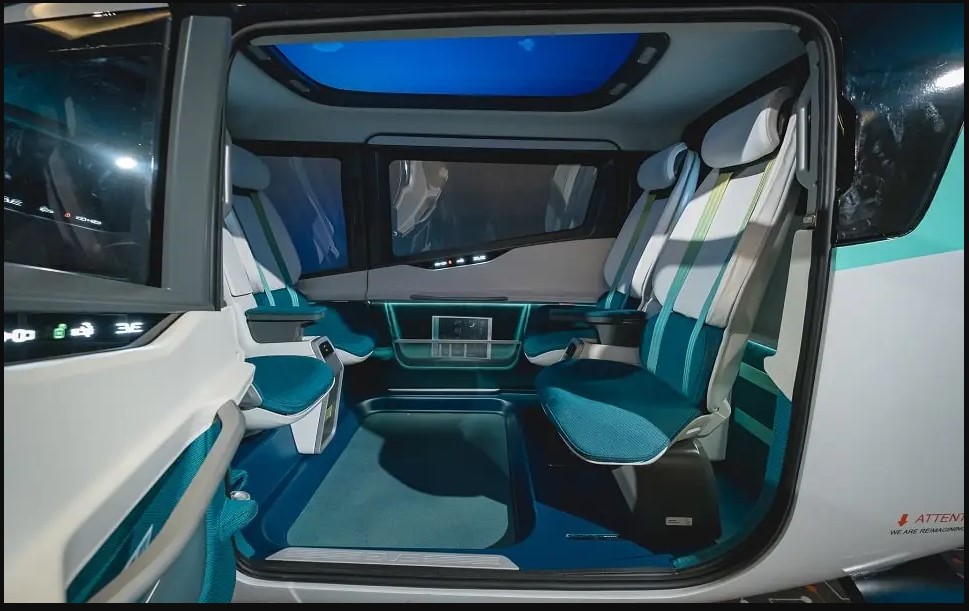 Farnborough, UK, July 17, 2022 – Eve Holding, Inc. ("Eve" or "the Company") (NYSE: EVEX; EVEXW) unveiled today at the Farnborough Airshow its first full-sized eVTOL (electric vertical take-off and landing vehicle) cabin mock-up, which reinforces the Company's human-centred design approach. The mock-up will be showcased at Embraer's 'Fly the Future' exhibition, together with the manufacturer's sustainable aircraft concepts. From July 18 to 22, visitors will be able to experience the future of regional aviation and Urban Air Mobility ("UAM") at the Embraer pavilion located at E037. Eve also shared its most recent vehicle configuration as part of the present product design phase.
"This mock-up brilliantly materialises the cabin concept we have been co-creating with potential users for years. We recently received feedback from our advisory board, and now we will be able to show it to other stakeholders here at Farnborough Airshow. Our solutions were designed considering essential market needs, such as accessibility, safety, sustainability, and ticket price. It is always exciting when we achieve this stage of the program," said Flavia Ciaccia, Vice President of User Experience of Eve.
Along with the mock-up experience, visitors will also be able to explore external features of the eVTOL through augmented reality technology.
As part of the ongoing product development, the company also presented the current vehicle design that uses a conventional wing and tail instead of the previous canard configuration. The eight rotors are fixed around the wing, providing vertical take-off and landing capability as well as safety and reliability in a simple and intuitive lift-plus-cruise design.
Andre Stein, Co-CEO of Eve, added: "Our teams have been working hard to create the best solutions for the global urban air mobility environment, and our aviation experience through Embraer not only gives us confidence that we are on the right path but also puts us at the forefront of the market. We've been accelerating our resources engagement and evolving the project's maturity."
Eve has been dedicated to fostering the UAM market across the globe and committed to enabling it sustainably and safely for all. The Company's eVTOL will offer communities environment-friendly flights at a lower cost and is expected to enter into service in 2026.