Emirates unveils its stylish Bulgari amenity kits for First and Business Class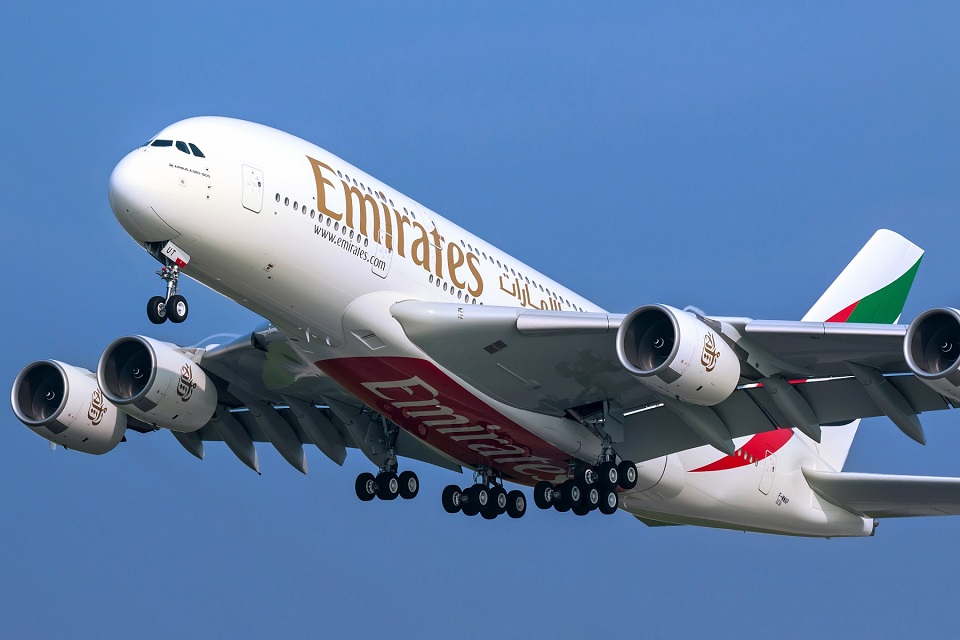 For the upcoming fall/winter travel season, Emirates is introducing its fresh line of elegant Bulgari amenity kits in First and Business Class. Onboard certain routes and long-haul flights as of right now, the range offers fresh colour schemes, new perfumes, a souvenir mirror, and an abundance of thoughtful facilities for passenger enjoyment.
Frontier Airlines new policy, passengers must drop-off their bags 60 minutes before Flight(Opens in a new browser tab)
The First and Business Class kit bags include new trending pantones and designs in keeping with Emirates commitment to provide a great customer experience onboard, as well as Bulgari fragrances housed in bottles created especially for Emirates. The new collection offers eight unique collectible bags for First and Business Class, available in a traditional tan and black fabric, a modern silver with lilac, or a subtle black with lilac highlights.
Are Qantas and Emirates retiring Airbus A380 Superjumbos?(Opens in a new browser tab)
New Business Class Amenity Kits
Each kit contains a variety of Bulgari goods, including the well-known BVLGARI OMNIA Amethyste Eau de Toilette. Pink grapefruit and green sap accords provide the fragrance's bright and zesty opening notes. Rich Damascena Rose Absolute is then revealed in the scent's core, which is followed by a warm, woodsy trail where the sweetness of heliotrope harmony melds with the vibrations of solar wood notes.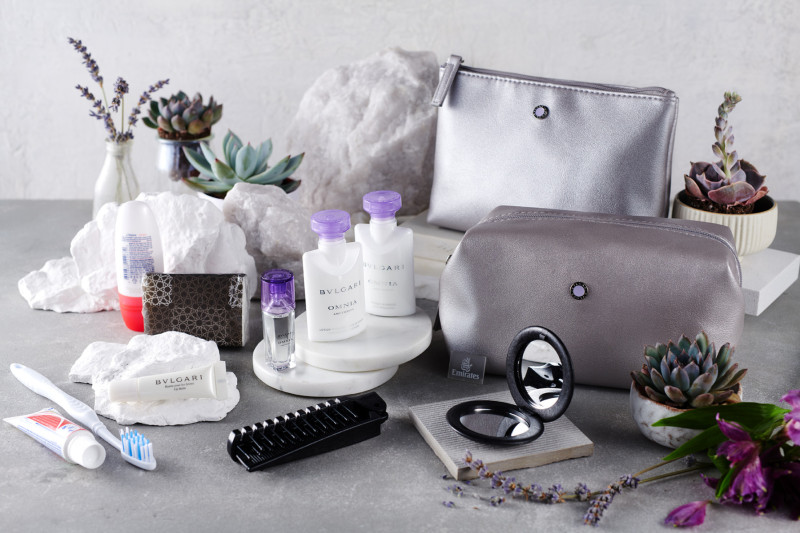 Along with a rich Bulgari lip balm and some comfort essentials like a dental kit, a double mirror made of sustainable wheat straw, deodorant, tissues, and a foldaway hairbrush, passengers will also receive complimentary Omnia Amethyste face and body emulsions to keep their skin hydrated.
Those who choose a more masculine look will appreciate two modern classic black cloth bags in various designs with brown vegan leather accents. The smell contained in these kits is BVLGARI POUR HOMME Eau de Toilette, a woody and floral musky scent with notes of water lily, guaiac wood, and Darjeeling tea that perfectly meld together to produce a calming effect. Along with a Gillette razor, shaving foam, dental kit, deodorant, tissues, and a foldaway hairbrush made from sustainable wheat straw, a complimentary Bulgari after shave balm and body emulsion are also included. These complimentary products are inspired by the same iconic scent.
New First Class Amenity Kits
The opulent First Class collection includes four distinct collectible bags: two in high-quality black cloth with tan vegan leather accents and two in black vegan leather, each holding a variety of individualised luxury goods.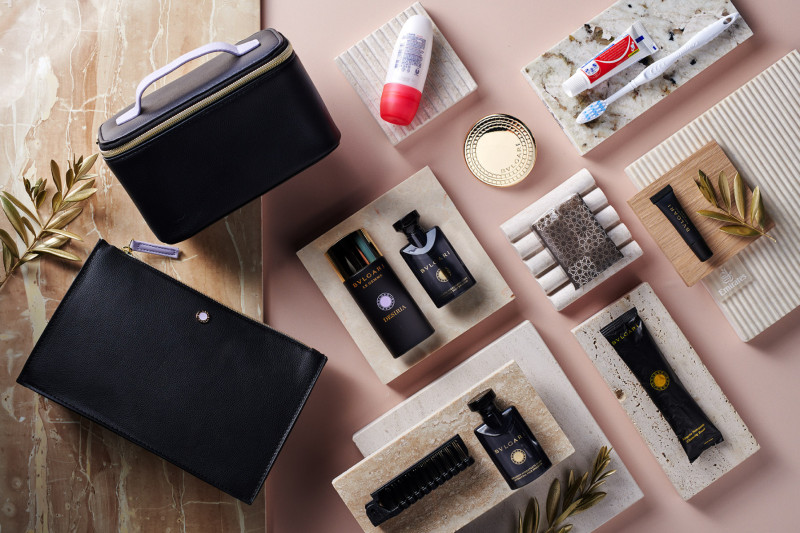 The new engraved gold Bulgari mirror—a remembrance item made just for Emirates—and a 30ml exclusive bottle of BVLGARI LE GEMME Desiria Eau de Parfum are contained in the black and lilac kits, respectively, and are housed inside a soft Bulgari pouch. Violet jade, magnolia, and brilliant rose petals are included in this luxurious and elegant floral aroma. A coordinating face and body emulsion goes well with the fragrance. In order to ensure that First Class travellers reach their destination feeling refreshed, the bag also includes a dental kit, a cool cleansing towel, deodorant, tissues, and a foldaway hairbrush.
First Class travellers on A380 aircraft can also enjoy the Onboard Shower Spa, which offers a different selection of opulent Irish Voya organic and ecological products. Additionally, First Class travellers will find a skincare kit from the high-end Swedish company Byredo in their private suites.
EasyJet and Rolls-Royce hydrogen research project sets new world industry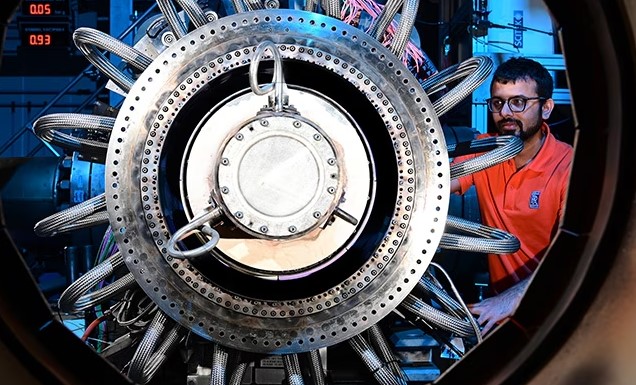 In its hydrogen research project, Rolls-Royce today announced the achievement of yet another significant milestone, a first for the entire world of industry.
In order to power a variety of aircraft, including those in the narrow-body market sector, starting in the mid-2030s, Rolls-Royce and its partner easyJet are dedicated to being at the forefront of the development of hydrogen combustion engine technology.
UK hydrogen alliance established to accelerate zero carbon aviation and bring an £34bn* annual benefit to the country(Opens in a new browser tab)
In collaboration with the German Aerospace Centre Deutsches Zentrum für Luft- und Raumfahrt (DLR) and the UK's Loughborough University, Rolls-Royce has now successfully demonstrated a crucial engine technology that represents an important step forward in the development of hydrogen as an aviation fuel.
Tests on a Pearl 700 engine running on 100% hydrogen at DLR in Cologne have demonstrated the fuel's ability to burn at circumstances that correspond to maximum take-off thrust.
The development of effective improved fuel spray nozzles to regulate combustion has been essential to that accomplishment. Given that hydrogen burns significantly hotter and faster than kerosene, this required considerable engineering problems to be overcome. A novel method that gradually blends air with hydrogen to control the fuel's reactivity allowed the new nozzles to regulate the flame location. The operability and emissions of the combustor met expectations, which is a positive outcome for Rolls-Royce.
Rolls-Royce and Gulfstream give wings to sustainable business aviation(Opens in a new browser tab)
Before the final full-pressure combustor tests were conducted at DLR Cologne, the individual nozzles were initially examined at intermediate pressure at Loughborough's freshly renovated test facilities and at DLR Cologne.
The hydrogen program's combustion component is now well understood as a result of these recent tests, but work is still being done on the systems that will deliver the fuel to the engine and combine those systems with an engine.
As Rolls-Royce and easyJet get ready for the next phase of testing, a full gas hydrogen ground test on a Pearl engine, they will now take the lessons learned from the Boscombe Down tests and apply them to the technologies tested at Loughborough and DLR. The next step will be a comprehensive ground test of a Pearl engine using liquid hydrogen; easyJet and Rolls-Royce both want to eventually fly with the technology.